NM State FIre Marshal now a part of DHSEM
The NM State Fire Marshal is now part of DHSEM and has a new policy in regards to onsite access.
For one-time visitors, DHSEM staff is required to escort the visitor(s) to and from the front gate.  Please coordinate with the office or individual you plan to visit before your arrival.
When you have arrived at the Onate Complex please call 505-476-9600 Please plan to arrive early to allow for entry into the Onate Complex and signing into the DHSEM Building.
New Address: 13 Bataan Blvd, Santa Fe, NM 87508 and PO Box 27111, Santa Fe, NM 87502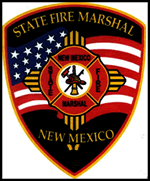 Randy Varela State Fire Marshal
The State Fire Marshal's Office (SFMO) provides a number of services related to the safety of residents and guests of the state. The functions of the State Fire Marshal's Office are divided into four sections.
Thanksgiving Fire Safety Tips
The FY24 Fire Protection Grant cycle is open from July 1, 2023 to August 31, 2023.

FY24 Grant Application Information
Fire Protection Fund Distribution FY 2024
News: Fire Safety Items for Day Care Facilities:
Request that the local Fire Department or State Fire Marshal's Office conduct an annual fire inspection for code compliance, proper safety equipment and employee safety training.
Conduct fire safety training for new employees and refresher training for all employees to review location of fire exits and the location and proper use of fire extinguishers.
Conduct monthly fire drills.
Maintain the proper staff to client ratio per state and local requirements.
Install proper smoke detectors per requirements and test each month.  Batteries in the detectors should be replaced at least annually.
Provide two exits for all sleeping areas.
Check fire extinguishers monthly and have serviced annually.
Store any flammable liquids in proper containers and in secure areas.
Ensure that all fire exits are not locked during business hours.