Santa Fe, NM – The New Mexico Department of Homeland Security and Emergency Management (DHSEM) is urging New Mexicans to be advised of potentially severe weather beginning this evening and continuing through early next week. The National Weather Service (NWS) forecasts strong winds, snowfall, and sub-zero temperatures across parts of the state.
"Please be prepared for below freezing temperatures, heavy winds, and potential road closures due to snow and ice," said DHSEM Secretary Bianca Ortiz-Wertheim. "This is the first winter storm of the season, and we want all New Mexicans to be ready. Notably, NWS forecasts strong winds above 55 mph throughout the week, which could lead to power outages."
According to today's Hazardous Weather Outlook from NWS Albuquerque:
Today and Tonight (12/08): "Strong west winds will develop over the Sangre de Cristo Mountains tonight with gusts of 55 to 65 mph possible."
Thursday (12/09) through Tuesday (12/14): "The first significant storm system of the season will move through the region Thursday night and Friday with strong winds, rain, snow, and significantly colder temperatures. Snowfall accumulations in excess of 10″ are possible in the high terrain around Chama with light snowfall elsewhere across northern and western NM. Strong to potentially damaging wind gusts of 55 to 70 mph are also possible along the central mountain chain into the high plains of eastern NM Thursday night and Friday."
This weekend, NWS Albuquerque also forecasts below-freezing temperatures throughout the state, as well as sub-zero temperatures in northern New Mexico (see NWS forecast below).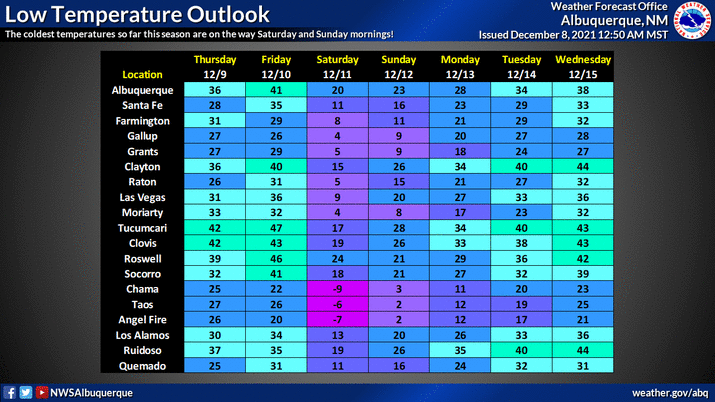 Below are some important cold weather safety tips from the National Weather Service and DHSEM:
1) When you are outside, frostbite and hypothermia are possible, so you need to protect yourself.
Wear layers of loose-fitting, lightweight, warm clothing.
Wear a hat. Try to stay dry and out of the wind.
Cover your mouth to protect your lungs from extreme cold.
2) Carbon monoxide poisoning is a silent, deadly killer claiming about 1,000 lives each year in the United States.
Install a carbon monoxide detector.
NEVER run generators indoors.
Open a window slightly when using a kerosene heater and follow the manufacturer's instructions.
NEVER use a gas oven to heat your home.
3) Wood-burning stoves, fireplaces, and heaters:
Always keep a screen around an open flame.
NEVER use gasoline to start your fireplace.
NEVER burn charcoal indoors.
4) To keep pipes from freezing:
Let hot and cold water trickle or drip at night from a faucet.
Open cabinet doors to allow more heat to get to un-insulated pipes under a sink or near an outer wall.
If you plan to be away:

Have someone check your house daily to make sure the heat is still on to prevent freezing, or
Drain and shut off the water system (except indoor sprinkler systems).
5) If pipes freeze:
Make sure your family knows how to shut off the water in case pipes burst.
NEVER try to thaw a pipe with an open flame or torch. Use a hair dryer instead.
Always be careful of the potential for electric shock in and around standing water.
6) Animal and pet safety:
Bring pets inside.
Keep salt away from paws
7) Avoid driving during storms. If you must drive:
Check your battery, fluids, and tires
Have jumper cables
Pack a blanket, a flashlight, and emergency food and water
Make sure your phone is charged before leaving
Remember you can monitor road conditions by dialing the New Mexico Road Advisory Hotline at 5-1-1 or by visiting nmroads.com.
For more safety recommendations, please see:
###
DHSEM works to protect the people of New Mexico and the nation through a comprehensive and coordinated program of mitigating hazards, preparing for emergencies, preventing attacks, and recovering from disasters. The New Mexico State Fire Marshal's Office is part of DHSEM beginning on July 1, 2021.