Santa Fe, NM – Today, the New Mexico Department of Homeland Security and Emergency Management (DHSEM) pays tribute to the millions of veterans who have served in the United States Armed Forces, to the families who support them, and to all those heroes who made the ultimate sacrifice to keep our country safe.
"Veterans are a cornerstone of American society," said DHSEM Secretary Bianca Ortiz-Wertheim. "Our heroes have taken on incredible risks and challenges, and they have done it all to protect our nation and preserve our democracy. And as we pause to honor their service, DHSEM recognizes the veterans who work in New Mexico's emergency management community and those who serve as first responders across our state. At every level of government, these veterans contribute essential skills that help New Mexico guard against terrorism, protect critical infrastructure, and respond to disasters. On behalf of DHSEM and the State Fire Marshal's Office, I would like to thank all veterans and their families for all they have done and for all they continue to do."
DHSEM is proud to employ several military veterans, such as Master Sergeant Jocelyn Padilla (pictured below), who joined DHSEM as a Mitigation Specialist in September of 2020. Sergeant Padilla studied at the University of New Mexico and earned her bachelor's from the American Military University. She has served in the US Air Force and the US Air National Guard for 15 years, including 12 years as the Command Post Controller at Kirkland Air Force Base.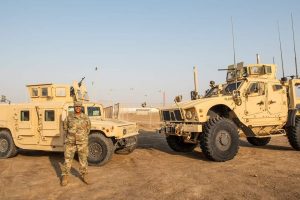 "As a Command Post Specialist, I was able to obtain an associate degree in emergency management and learn the whole process of coordinating with various agencies to mitigate disasters. I learned how to work in stressful environments and the importance of strategic thinking. Working in Command Post, you are continuously exercised so that when you're faced with a real-world scenario, you can act fast and make good decisions. By serving in the New Mexico Air National Guard, I was able to serve my community." – Master Sergeant Jocelyn Padilla
Notably, New Mexico has one of the highest concentrations of veterans in the nation. According to the US Census Bureau, 8.9% of all New Mexicans over the age of 18 are veterans of the Armed Forces, compared to 7.1% for the nation as a whole. Veterans also make an outsized contribution to public service, with 27% of employed veterans working at some level of government, compared to 14% of nonveterans.
###
DHSEM works to protect the people of New Mexico and the nation through a comprehensive and coordinated program of mitigating hazards, preparing for emergencies, preventing attacks, and recovering from disasters. The New Mexico State Fire Marshal's Office is part of DHSEM beginning on July 1, 2021.